ClickFunnels Vs Leadpages Comparison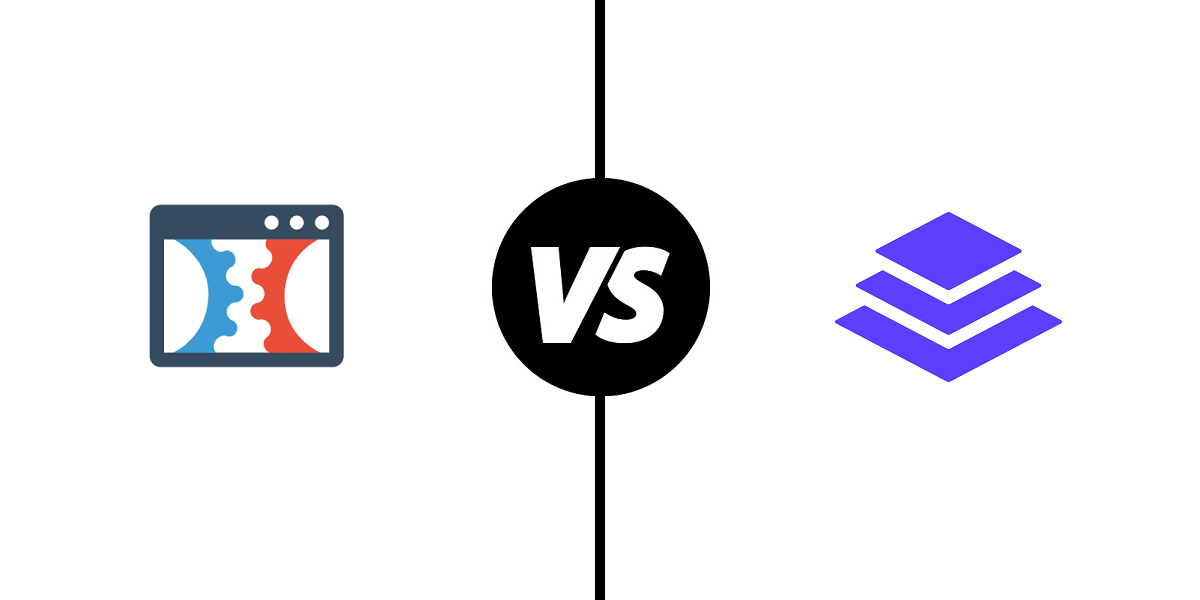 Developing effective sales funnels and landing pages is an essential component of successful online marketing and sales. These tools can help drive new customers to your website and increase your conversion rates.
While you can make your own sales funnels and landing pages, it can be time-consuming. Plus, if you don't really know what you're doing, your efforts may be wasted and you'll miss out on reaching more customers.
ClickFunnels and Leadpages are two services that were created to help companies create effective funnels and landing pages that will help drive customers to their websites and increase their revenue. But, which service should you go with? We've compiled a comparison of the services offered by Leadpages and ClickFunnels to help make this complicated decision a little easier.
​So What Is A Landing Page?
​A landing page is basically on page that exists on your website where a visitor is going to first land. It can really be a variety of things such as a sales page, your home page, a squeeze page, and about us page...or really any type of page you can think of. It's just where the visitor first lands!

So what you want to do is make sure that the person you send to your landing page is getting what they came looking for. This doesn't necessarily have to lead you into getting a sale, but you can actually get opt-ins quite easily if you are able to correctly design your landing page and funnels, which we will talk about just below.

Many people use landing pages to first collect opt-ins, and then they work their funnel from there...
​So What Is A Funnel?
​Well, a funnel is a sequence of events that leads a person towards your goal. This can be a series of pages, or a series of e-mails, and a combination of both and other things combined.

So what is the goal of a funnel? Well, it's to get the person to meet your end goal in a way. A lot of people use funnels to get people on their mailing list. They do this because a big part of the funnel is building trust. Once you are able to build trust, it's a lot easier to sell, upsell, and upsell again.

And you can actually have many different types of funnels working on the same website. They can do things like pull in leads, convert leads to customers, upsell them and turn customers into affiliates for the product you were promoting in the first place.

It's important to realize that you aren't stuck with just one funnel. And you must remember that in the end, it's just a series of pages that you worked on for conversion.
​So ​What Is An Example Of A Simple Funnel?
​Well, maybe someone is looking for basic information on what a sales funnel is.

So you give them some awesome free information on exactly what a sales funnel is and then you also give them some cool free samples to use for themselves.

They get a pop-up saying "Now that you understand sales funnels, how would you like to access my #1 converting sales funnel that has made me 7 figures, for FREE". This is the opt-in where you can collect their e-mail.

You then e-mail them giving them the free funnel, maybe even following up a couple more times with free information and resources.

Then you send the sales e-mail where you sell them on your special sales funnel software. They buy the software and you upsell them on 1 on 1 mentoring for using the software to maximum capacity.

This is a basic example of a sales funnel.
Overview of ClickFunnels
ClickFunnels is designed to make it easy for anyone to create effective sales funnels and marketing tools to help grow their business. It can help you set up and implement all the essential components of a funnel from the landing page, the shopping cart, and your communications with your customers.
You do not need a background in web design or marketing to use ClickFunnels. They offer templates and resources designed to help anyone generate high-converting pages and funnels.
Overview of Leadpages
Leadpages can help you convert visitors to your website into subscribers and customers. They offer a variety of tools designed to help you create customized landing pages and opt-in forms.
If you're a beginner, Leadpages is a good option to consider. They offer numerous templates that can be quickly and easily customized to meet your specific needs and goals. They'll be ready to publish in no time, and you don't need any HTML or coding knowledge to get your webpages complete.
Shared Features of ClickFunnels and Leadpages
Unique Features of ClickFunnels
Unique Features of Leadpages
Creating Sales Funnels
If you're looking to create a full sales funnel, not just a landing page, you will want to use ClickFunnels. Leadpages is designed to create landing pages, not sales funnels. The main difference between a sales funnel and a landing page is that a landing page is just one piece of a funnel. Sales funnels are comprised of numerous pages and forms that are designed to convert a visitor into a buying customer.
ClickFunnels is an all-inclusive option that provides you with all the tools and resources you need to create each piece of your sales funnel. Before ClickFunnels, you would need to independently set up each piece of your funnel (such as the landing pages, email marketing campaigns, and shopping cart) independently. They make setting up all these different components and getting them to work together simple and straightforward.
ClickFunnels can help you create a customized funnel based on the type of product or service you offer. They offer funnel templates designed to help you generate new leads, generate sales, or for running a webinar or other event type. You can even use their funnel generator to help you select and customize the ideal funnel to meet your needs.
Once you've started the funnel-creation process, you can easily modify and adjust your funnel to meet your specific needs. The funnel editor can help you re-order the steps in your funnel, delete steps, or add new steps. You can also easily add one-click upsell options when your customers are making a purchase.
Creating Landing Pages and Webpages
Creating landing pages that will yield high-conversion rates is one of the pieces of building your sales funnel with ClickFunnels. Their landing page tool is designed to be simple and intuitive to use. They provide numerous templates to help you develop and customize effective landing pages.
In all, there are around 200 different template choice for you to choose from. To help you quickly find the templates that will best match your purposes, they have been sorted into various categories including sales, opt-in forms, customized pop-ups, and memberships.
If you would prefer to design your own landing page, you also have that option with ClickFunnels. The drag-and-drop editor makes it easy for you to create a customized landing page that matches your vision and your exact needs.
In addition to using ClickFunnels to create landing pages, you can also use their page editor to create all of the pages for your website. Depending on the plan you choose, you'll be able to create 100 or 300 different pages.
Since creating landing pages is one of the main features offered by Leadpages, it includes a variety of features designed to make landing page creation a breeze. They offer a drag-and-drop editor that eliminates the need to know HTML when designing a landing page. You'll be able to easily move elements around on your page until you arrive at a final product that you are satisfied with.
You'll love how simple Leadpages makes it to design a landing page. They offer numerous pre-built templates. If you use one of these templates, you will only need to change the text to match your company and insert some relevant images. It is that simple.
They offer two different template options: standard templates and drag-and-drop templates. The standard templates are designed to be ready-to-go and do not allow for as much customization. The drag-and-drop templates, on the other hand is that you are able to make as many edits as you want.
Marketing Features
ClickFunnels has developed a marketing system called Actionetics. This system is designed to let you send specific messages to different leads based on their specific behaviors and actions. You can use ClickFunnels to create trigger-based funnels that will automatically send different email series to your customers. For example, a customer signing up for a webinar will receive a different email series than a customer who purchases a product through your site.
Another feature of ClickFunnels is the ability to group email subscribers based on different characteristics. You may choose to group them based on their location, demographics, behavior, or which step in your sales funnel they are in. With this feature, the emails you send can be more specific and customized to the needs and desires of each group.
Leadpages also offers many marketing features that can help you grow your business and stay in contact with customers and potential customs. One of the best features of Leadpages is their digital asset delivery. When you offer your website visitors something free (an e-book, discount code, etc.) for providing their contact information on your website, Leadpages can automatically deliver file or document for you.
When you set up lead magnet delivery, you'll simply need to upload the file you wish to have sent, write a message to go with the email, and select a sender's name and email. Then, anytime a visitor enters their contact information, they'll automatically receive the file from you.
Another invaluable tool for marketing is LeadDigits. LeadDigits is designed to make it easier to add prospects you meet in-person to your mailing list. They can easily join your list via text messaging.
All your prospect will need to do is text your LeadDigits number using the keyword you'll set up. Then, they'll receive a text from Leadpages encouraging them to join your email list.
Third-Party Integrations
Both ClickFunnels and Leadpages offer numerous third-party integrations.
ClickFunnels supports 38 integrations including:
Leadpages supports 23 third party applications. These include:
Split Testing
Split testing is key to determining how effective your landing pages are and which of two or more versions will deliver the highest conversion rates. Click Funnels A/B testing features can be used to test different design and content components of your pages.
Setting up an A/B test is simple. Visit your dashboard and select the landing page you want to conduct testing on. Click on "Create Variation Tab," and the steps will walk you through creating a duplicate of your landing page.
Then, you can make the changes to one of the copies of your landing page that you want to test. You should only test one change at a time to know which element led to the higher conversion rates you noticed through the split testing.
Leadpages also offers you the ability to conduct A/B split testing on different landing page designs. You can run an unlimited number of A/B and multivariate tests to test out different designs and features and find what will provide you with the best conversion rates.
Plans and Pricing
One downside to ClickFunnels when compared to Leadpages is that it costs a fair amount more. However, for the price tag you'll be paying, you won't have to add on extra services, such as email marketing, like you would need to with Leadpages. So, if you think you'll need these other services, singing up for an all-inclusive plan from ClickFunnels can actually help you save money every month.
Pros and Cons of ClickFunnels
Pros and Cons of Leadpages
Our Final Verdict
While Leadpages certainly has a lot to offer, it just doesn't compare to ClickFunnels. ClickFunnels is an all-in-one solution that will help you with just about every aspect of creating a functional and effective website, building a high-converting sales funnel, attracting potential, staying in frequent contact with your prospects, and sealing the deal with prospects by turning them into paying customers.
You'll find that signing up for ClickFunnels saves you so much time, effort, and frustration since you won't need to try to use multiple services to achieve the same end goal. So, what are you waiting for? Start creating your sales funnel today, so you can start seeing your business grow and prosper.