Sales Funnels For Beginners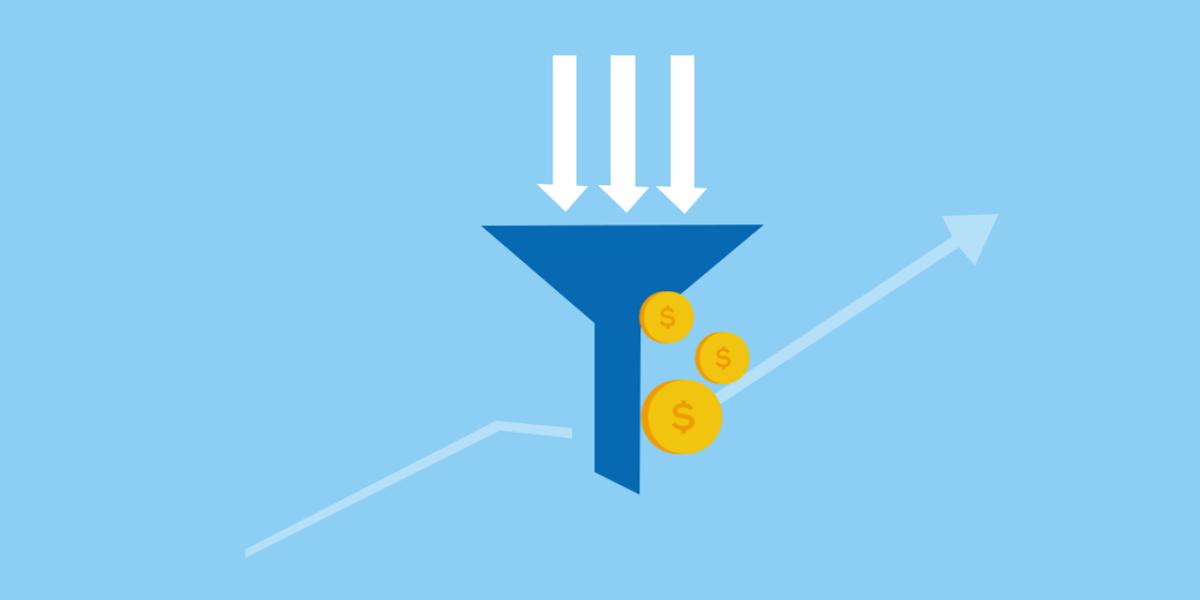 Have you heard a lot lately about how your business needs a sales funnel? Are you looking to create one to help increase your customer base and improve your revenue, but have no idea where to start?
Sales funnels may seem very intimidating. But once you have a better understanding of just what they are and how they work, everyone, including beginners, can set them up to help their business grow. In the article below, we'll share some information about what sales funnels are and how they are used, as well as some tips and strategies for setting up your own funnels.
What is a Sales Funnel?
The purpose of a sales funnel is to help you generate new customers and turn existing customers into return customers. While sales funnels will also help you make a sale in the moment, their main goal focuses on the future of your business and sustaining sales and leads well into the future.
When thinking about a sales funnel, picture a funnel you may use for cooking. Ingredients are poured in at the top and slowly make their way down through the funnel. Eventually, they end up in your mixing bowl, right where you wanted them to go.
A sales funnel works the same way. Except, instead of ingredients, it uses leads for your business. People start at the top of the funnel where they are just learning your company, products, and what you have to offer. The sales funnel helps move them through learning developing an interest in the products you offer, becoming invested in making a purchase, and following through with that purchase.
How a Sales Funnel Can Help Your Business
As you learn more about sales funnels, you'll start to realize just how big of an impact they can have on your business. Sales funnels are designed to help you increase your customer base and earn the trust of potential customers.
Visitors to your website are not likely to place an order on their first visit. If you don't have a sales funnel set up, they'll likely browse through a few product or service pages and leave the site. With a sales funnel, you'll be able to collect their email and contact information, allowing you to stay in touch and help them develop the trust and investment in what you have to offer. This will lead to sales down the road, rather than a wasted investment from the ad campaign you ran.
Sales funnels can have a profound impact on increasing the business you'll see from return customers. Once a customer places their first order on your website, they are not 'dropped' from the funnel. Rather, they will continue to receive communication from your business, helping them develop a deeper commitment to and trust in the products you have to order. This will result in them visiting your site again to make additional purchases.
Repeat customers are more likely to place larger orders than first-time customers since they have already experienced the quality of the products or services you have to offer. As you can imagine, attracting past customers to visit your site and make additional purchases can have a profound impact on your revenue.
The Stages in a Sales Funnel
Ok, so now that you understand what sales funnels are and how they can benefit your business, you probably want to know more about how a sales funnel is set up. Sales funnels are broken down into different funnel stages. Each stage is designed to help funnel larger pools of leads into ordering customers.
There are five main components in an effective sales funnel. They are awareness, interest, desire (sometimes called decision), action, and retention. As with a standard funnel, you can expect larger numbers of people in the top sections that gets funneled down into a smaller group of people who follow through and place an order. This is to be expected as not every lead will become a customer. However, sales funnels will help you convert more prospects than you could expect to otherwise.
Below, we'll share a little more about each stage in a sales funnel and give examples of what that stage may look like for a business. Remember, since every business's needs are different, what you include in each stage may different from other companies. You'll want to develop your marketing strategy and goals before setting up your sales funnels. Strategies will likely vary significantly for a cupcake shop and an online webinar service.
Awareness
As the name implies, the awareness stage is where you are helping make customers aware of the products or services you offer. This stage may also involve you helping customers identify the different problems they may be facing that you can provide solutions for.
The awareness stage of a sales funnel involves customers visiting your website for the first time. They may enter this stage by clicking on one of your paid ads, finding your website through a Google search, or by clicking on a link posted by one of their friends shared on social media.
Interest
After you have made customers aware of the 'problems' they face, the next step is to help customers develop an interest in the solutions you have to offer. As customers begin to see that your products or services may be of use to them, they'll become more interested in what you have to offer. This can encourage them to join your email lists or like your social media pages.
To help make sure potential customers develop this interest in what you have to offer, you will want to make sure your website and the ads you run fully demonstrate just what you have to offer. Otherwise, the visitors to your site may not fully realize what you are offering and will lose interest in your products or service.
Desire/Decision
After piquing the interest of potential customers, the next step is to develop their desire to obtain the products or services you offer, so they can solve their problems. There are various ways you can create this desire in your customers. You may choose to run targeted ads that remind them of the solutions you offer or staying in touch through email marketing.
Moving potential customers from the interest stage to the desire stage in your funnel is one of the more challenging aspects. You want to help cultivate that deeper commitment and trust in the products or services you offer that will move customers from being interested to being invested.
Action
Action is the next stage in your funnel. This is the stage where customers have decided to follow through and make a purchase or sign up for a service you offer. Once your customer has followed through and made that purchase, your contact with them is not over.
Retention
Retention is the final stage in a sales funnel. While getting your customers to click 'add to cart' is important, you don't want it to be the end of your communications with them. Retaining your customers and getting them to come back to you for their future business is just as important as adding new prospects to your funnels.
During the retention stage of the sales funnel, you will work to keep your customers engaged and keep your product(s) at the forefront of their mind. This may include email marketing, sending them exclusive offers, following up about their purchases, and more.
Creating Your Sales Funnel
If you're ready to create your own sales funnel, there are a few steps you'll need to take. Many companies also offer sales funnel software which can help walk you through the various steps and get your sales funnels set up and working.
Learning More About Your Customers and Gathering Information
Before you can expect to be able to create a sales funnel that will work for your business, you will need to learn more about your customers and potential customers. In order to effectively market your products to them, you want to determine their specific needs and the challenges they face.
During this process, you'll likely notice that the needs of your customers vary. Not every customer is the same, but you'll begin to notice some patterns and similarities between different groups of customers.
Because of these different needs and ways of thinking, you will almost certainly want to create multiple sales funnels. Each sales funnel will be geared towards a different customer type. This can help you attract more potential customers to what you have to offer.
Driving Traffic to Your Site and Creating New Leads
Now that you have learned more about what potential customers will be looking to get out of your products, you can start working on driving new traffic to your site. The ways you attract new customers will be based on what you learned about your current customers. You can share common problems individuals face and develop an interest in how your products can help provide a solution.
There are different strategies you can use to increase the traffic on your site. When used correctly, paid advertising campaigns can be very effective. You can create ads that highlight the solutions your products can provide. When creating ads, be sure to make it appealing for customers to click on them. For example, you don't want to completely give away all the information about your product or service in the ad; you want customers to click on the ad to be directed to your website.
You may choose to use Facebook Ads, Google Ads, Twitter Ads, or some other choice. Think about your customer base and where you will get the biggest bang for your buck. You may also choose to experiment with a few different ad options to see which ends up being the most effective for your needs. Since you only pay for the clicks your ads receive, you won't need to worry as much about wasting money on people who have no interest in what you offer.
Another idea to consider is to use affiliate marketing to help you gain new leads and increase the traffic to your site. With affiliate marketing, you give a portion of the sales generated to the websites that directed customers to you. You will only end up paying for customers who follow through and actually place an order.
The key with either of these steps is to make sure you encourage visitors to your page to sign up to receive emails. Without implementing this step, you won't be able to stay in contact with these potential customers and may likely lose out on future sales. You can make signing up for your email list more enticing by offering a discount on a future purchase or a free item (such as an e-book).
Keeping Customers Engaged and Interested
Next, it will be essential to keep customers engaged with your products to help move them down your sales funnel. Share tips, post on social media, send an email newsletter, offer special promotions, create blog posts, and more to keep your products front-and-center for your leads.
Finishing a Sale
The final step you'll need to set up is to encourage customers to place an order. This may look different for different companies, but some things you can try include sending sales emails or making calls. Adding a special promotion can also be effective in helping customers make the decision to place an order.
As a beginner, sales funnels can seem very overwhelming. However, once you learn more about them and how they work, you can see that anyone can create one to help their business flourish. Hopefully, you've found our article helpful and are leaving with a list of ideas and strategies you can implement right away!